Good Luck Tom!
It is always a sad day when one of the cuckoos take flight, however we take great pride in developing and nurturing our team to progress and grow, even more so when they skyrocket above all expectations and achieve their dreams.
Tom, our Social Media Executive, leaves the nest today to join the team at McCann Manchester as a PR and Social Media Executive, we're immensely proud of Tom in all that he has achieved during his time here. We thought we would share with you Tom's story of his journey with Cuckoo.
"I started at Cuckoo in 2016 literally one month after my Apprenticeship ended with The Juice Academy – I was employed to support the social media team and develop my knowledge further, after 3 months I was promoted to Social Media Executive.
With only one year of experience under my belt It was quite daunting to join such a fast paced creative agency, however everyone within the team was incredibly welcoming and supportive from day one. I feel like I have learnt so much in such a small space of time. My confidence has grown so much due to the fantastic and supportive team, my knowledge of social media and the industry has also developed enormously.
More specifically, my time at Cuckoo has taught me new ways of working (especially when it comes to deadlines and quick turn arounds). The team have brought me out of my shell and encouraged me to take initiative and ownership of my work.
Thanks to Cuckoo I now have the skills and experience to plan and execute social media campaigns from start to finish.
The people are helpful, generous and above all, slightly cuckoo when it comes down to it (although, isn't everyone at the end of the day?).
Thanks for an ace time guys! x "
You are welcome, We will miss you Tom!
Lots of Love Cuckoo.
Vero Moderno goes live with the help of Cuckoo!
Cuckoo have designed a stunning new website for Vero Moderno!
Here at Cuckoo we are always looking for ways to give back to our community and the surrounding area by using our design, marketing and creative expertise to help local businesses.
Our latest support project was to build a website for Vero Moderno – a rustic Italian restaurant on Chapel Street, Salford. The layout and design was inspired by the simplicity of their modern Italian cuisine as well as the restaurant's minimalistic yet bright and inviting interior. The website will also act as platform for the Vero team to share their vision with their customers. Click here to view the Vero Moderno Website.
Vero Moderno's Chapel Street street setting is an area close to the hearts of the Cuckoo team. The eatery is positioned just under Vimto Gardens –  a luxury residential development for which we created a complete visual identity, website and drove all marketing activity.
 If you need a helping hand building and designing your website or with anything else for that matter please feel free to get in touch on 0161 839 9337 or email Jennifer@cuckoodesign.com.
Cuckoo lands two nominations at this year's Salford Business Awards!
We're thrilled to announce we've been nominated in two categories for this year's Salford Business Awards!
We're in the running to win The Best Employer and Excellence award off the back of our most successful year yet – both creatively and financially! 
Here at Cuckoo we have a long standing relationship with the Salford Business Awards. Not only have we been honoured by the organisation through this year's nominations, we're also the creative force behind their visual identity and website!
Last year we were chosen to be the official design and marketing partner for the prestigious event and for 3 years running we've developed a unique concept and design for their awards programmes for the big night – check out some of our passed work with the Salford Business Awards here
Watch this space to see how we get on when we head down to the AJ Bell Stadium on May 25th.
Have a cracking Easter from everybody at Cuckoo!
For Easter this year, Cuckoo has donated 50 chocolate eggs to Wood Street Mission.
The Manchester based charity helps provide underprivileged children and families living in the surrounding area with everyday items most of us take for granted. Their wonderful Easter project aims to get as many kids as possible joining in the fun of the holiday! Their amazing volunteers collect as many delicious egg donations as possible and deliver them to children throughout Manchester in time for them to enjoy this Easter Weekend!

We picked a selection of our favourite choccy – Smarties, Malteasers and of course Mini Eggs! – to help put a smile on their faces!
If you're interested in getting involved in any of Wood Street Mission's incredible projects and want to make your own donation visit http://www.woodstreetmission.org.uk.
Cuckoo gets creative for The Manchester Duck Race!
It's that time of year again and Cuckoo will soon be sending our own extra special contender to take part in the race of all races!

Around 25,000 visitors will descend on the River Irwell on Good Friday – with families and friends getting together in support of Brainwave and taking part in the 8th annual Manchester Duck Race!

The event takes place around the Spinningfields and New Bailey area and costs as little as £1 to enter your own feathered (well, plastic) friend!

All proceeds will go to Brainwave, a local children's charity who work hard to help youngsters who've suffered with brain injuries across the country.

In support of this incredible cause, our talented team have created our own super stylish silver duck to take on the challenge.
Inspired by the rubber duck being immortalised in silver as the latest Monopoly board token, we not only painted our slightly oversized contestant – we also crafted a miniature Monopoly man to ride our duck to victory!
Come and see how our extra special entrant gets on or join in the fun for yourself!

Click here to see all of the contestants, make sure to click 'like' on our duck to make sure we are crowned Best Dressed Duck 2017 – get voting!!
Exciting new client win for Cuckoo!
Cuckoo would like to say the warmest of welcomes to our new client, National Museums Liverpool. Their incredible collection of 7 galleries and museums house some of the countries favourite treasures from stunning Impressionist paintings to rare historical artefacts – including a lifejacket from the Titanic!
National Museums Liverpool have called on our award-winning agency's expertise to make their Christmas 2017 campaign really sparkle. Watch this space for updates on the project and news of our exciting future campaigns together!
If you need a helping hand making your brand stand out or with anything else for that matter please feel free to get in touch on 0161 839 9337 or email Jennifer@cuckoodesign.com.
Introducing The Newest Cuckoo…Oliver!
We recently welcomed Oliver Dickinson, our new social media apprentice, into the Cuckoo nest.
Oliver joined the agency last month after seriously impressing client services director, Sophia, and our social media executive, Tom, at The Juice Academy.
The prestigious Juice Academy offers an industry-led apprenticeship programme which brings together budding social media marketing stars, providing training and the chance to engage with agencies and potential employers directly through bootcamp days.
It's safe to say Oliver made quite the impression on us, so we thought we'd give you the chance to get to know him a little better!
How Did He Get Here?
"I was coming to the end of my A levels and I wasn't enjoying being in the kind of environment where it would be heavily focused on independent study." says Oliver. "I wanted to do something more interactive. I decided not to apply for university and apply for an apprenticeship instead so I could learn on the job which has motivated me far more than I ever was at college."
Oliver applied to join The Juice Academy and was invited to attend a bootcamp day. The rest is history.
He explains: "I found myself heavily drawn to the digital marketing sector as I had identified it as a rapidly growing sector and something I wanted to get involved in. Finally, after a bit more digging I discovered The Juice Academy which came highly recommended and focused on all things social media.
"Throughout the day I interacted with Tom and Sophia and at the end of the day they chose me as their new social media apprentice."
Oliver was offered the position on the spot and was getting stuck in to agency life by the following Monday.
"I think the thing that impressed me most about Oliver was his willingness to learn about social media and digital marketing," says Tom. "As well as showing off both independent and teamwork skills throughout the day."
Ollie is now celebrating almost 2 months with our award-wining agency.
This is what he had to say about his expertise, his time at Cuckoo so far and his plans for the future during a quick fire Q&A session.
What has been the best part of working at Cuckoo so far?
How welcoming everyone has been. From the first day everyone was always coming over and speaking to me, getting me right into the team. There have been no bad parts at all!
What makes you a good fit for the team?
I have quite a good rapport with people. I get along with everyone. I also think, because I'm quite young, I can bring some fresh things to the table. As I'm doing an apprenticeship I'm still learning so I can keep bringing new ideas.
Where does your expertise lie?
It's got to be social media of course, because that's what I'm doing! But all things marketing. I'm alright at design too and have good organisational skills.
Any standout moments over the last month?
The first day I got a massage! They had a masseur in. And the second week we went out for dinner to celebrate hitting an agency milestone. It was nice to be included in that because I wasn't here last year.
Do you have a favourite piece of work to date?
Its something I'm currently working on. Our marketing manager Jennifer asked me to do an in-depth presentation containing competitor research on various social media platforms.
Describe yourself in three words?
Logical, diligent and motivated.
Where do you see yourself in 10 years time?
I'd like to still be in the digital marketing sector. I don't want to wander off or anything. I want to have a good track record and portfolio showing how I've helped improve businesses. I don't know where I'll be in 10 years time but I'd like to be at Cuckoo for the foreseeable future.
Fun fact: Oliver is fascinated by space exploration
We're always on the lookout for talented individuals to join our fabulous team so keep an eye on our social media pages for opportunities!
Cuckoo's Tasty Valentine's Day Cook Off
Here at Cuckoo we decided to celebrate Valentine's Day a little differently this year by getting the whole agency together for a bit of love-inspired competitive cooking.
The Cuckoo cook-out featured a host of mouth-watering treats from delectable pink-frosted cupcakes to freshly-baked falafel and humus flat breads.
Our wannabe chefs were given two scores out of five – for presentation and taste – after each competitor had sampled every single dish of course.
Once the scores were added up it proved to be a pretty close contest.
Congratulations to our Managing Director Justine who bagged the top spot with her heart-shapped mini margherita pizzas served with fresh basil.
Second place went to our Marketing Manager Jennifer for her decadent chocolate piñata cake. 
Client Services Director Sophia came in a respectable third place with her moreish moroccan tagine.
Now doesn't that sound like the perfect, Valentine's Day dinner for two?
If you fancy getting your hands on one of our recipes or anything else for that matter please feel free to get in touch right away on 0161 839 9337 or email Jennifer@cuckoodesign.com
Our Lovely New Website
Here at Cuckoo we are welcoming in what is sure to be an exciting 2017 with the launch of our shiny new website!

Designed and built in-house the site showcases the very best of Cuckoo following our best year to date (creatively and financially) for our award winning agency.

You'll find a medley of our latest and greatest projects, intertwined with ramblings from our blogger and a spanking new brand film – a 60 second energetic video offering an insight into the intricate workings of the cuckoo machine.

So spend a little time here, navigate your way around and please feel free to let us know what you think, alternatively if there is anything we can help you with get in touch right away on 0161 839 9337 or email Jennifer@cuckoodesign.com
Have a beautiful Christmas
All the team at Cuckoo would like to wish each and everyone of you a happy and peaceful Christmas. We've created this short film and message for you to enjoy. To be in with a chance of winning a magnum of Champagne simply like or share using the links below. Good luck!
We'll see you in the New Year…
Share the Christmas joy
Cuckoo scoops Best B2C Campaign/Strategy for Timekeepers Square
On Thursday 24th November Cuckoo flew down (well… er caught the train!) to London's trendy Marriott Grosvenor Square for the eighth annual Drum Network Awards. Nominated in the Best B2C Campaign/Strategy category for our work on Timekeepers Square we duly scooped the main prize!
Timekeepers Square is a residential development consisting of 36 townhouses based just off Chapel Street in Salford; the project is part of a £650 million regeneration of the Salford Central area. Cuckoo was the chosen agency to lead the brand and communications strategy, responsible for developing the name, brand identity and narrative, website, full suite of marketing collateral and promotional film.
The campaign was a huge success with a record 6 reservations made on day one and all units sold out within one year. All units also achieved 100% of the list price.
Inaugural Industry Sounds music event begins in Salford
The inaugural Industry Sounds music event took place on April 22nd and was inspired by a love and passion for music and of course the creative industry we all work in. We believe there is a wonderful relationship between the two worlds – Industry Sounds is our way of celebrating this.
The event, which took place at Paul Heaton's Kings Arms brought together members of the creative design and marketing community to showcase their musical prowess for a night of great music, great company and all for a great cause.
The evening was headlined by Manchester's The Rainband, co-founded by Cuckoo's very own Phil Rainey and fresh from support slots with Paolo Nutini and a main stage slot at the Isle Of Wight Festival. Support came from The G-O-D, The River Versus and Inhale, represented by agencies Silverback Social, McCann and IF.
The night was concluded with an auction of original artwork from Malcolm Garrett (Buzzcocks, Simple Minds, Duran Duran and Kraftwerk designer) and Clint Boon (Inspiral Carpets, Radio X).
Industry Sounds is joint project between Cuckoo, The MPA (Manchester Publicity Association) and Silverback Social. All proceeds will be donated to national charitable organisation Nelly Globe, a national chartiable organisation in Levenshulme. Founded in 2010 by Levenshulme's own Darren Nicoll.
Following a serious illness, Darren realised that coming to terms with the trauma he and his family had been through was, in many ways, as difficult as the illness itself. During this time he kept creative journal which helped him adapt to life after cancer. From this experience Nelly Globe was born.
Funding creative projects for people affected by trauma. Funds raised have enabled Nelly Globe to devise and fund Journal projects with Callplus (a cancer charity), The Teenage Cancer Trust, The Stroke Association, Lifematters Homeless project, Freedom from Torture and Nelly Globe plans to work with other national charities and organisations.
Cuckoo welcomes a delicious new client!
It's no secret that the Cuckoos are what you might call a bunch of food deviants; Cooking, endlessly scrolling through Buzzfeed food posts (some of us even read menus for fun) and of course most importantly eating! For this reason we are absolutely thrilled to announce our delicious new client, Obson & Co who have decided to put their image in Cuckoo's capable hands.
Obson & Co is a niche artisan catering business founded by fellow foodies Anthony Liddy, Neil Hindle and their team of 30 experts offering eclectic, high-end and quirky catering solutions to the business and leisure sector, more specifically the elite, professional sports sector. All of their produce is locally sourced, fresh and prepared in their North West based kitchen– it's no wonder their food is loved by elite athletes.
During these early stages of the relationship, Cuckoo is working closely with Obson & Co to establish a robust marketing strategy to expand the business. We have enjoyed working in the hospitality sector for over 20 years…you might say it's in our DNA!
We can't wait to get stuck in…yum yum
Merry Christmas – from the Cuckoos!
The Christmas cheer is particularly strong at The Old Bank. There are half-devoured advent calendars on every desk (excluding Emma our Office Manager, as she has eaten hers already…) festive songs on the radio, and we have even swapped our usual pink Christmas tree for a real one (which has our secret Santa presents perched underneath it).
The most exciting part about Christmas at the Cuckoo HQ, however, is our annual Christmas cards – and this year's have certainly been a talking point.
Every year we design our own personalised Christmas cards. This year, each Cuckoo has dusted off their photo albums to find a Christmassy photo of themselves to bring into the office.
As a collection, the pictures spread across several generations, but all of them feature Cuckoos looking young and innocent. As a result, some hilarious photos have been passed around the office. We have witnessed our designer, Jordan, in his favourite Christmas-themed onsie; our Account Manager, Sophia, at 1 year old cradling a bottle of Irish Cream; and our Account Executive Rachel, stood hand-in-hand with her first admirer.
To accompany the photographs, each Cuckoo wrote a short quote to describe their picture, which was published on the inside cover of their card.
These cards are by far our favourite to date. They provided a great opportunity to inject some personality and individuality into the conventional Christmas card, as well as giving us the chance to reveal the range of characters, which help to make Cuckoo, Cuckoo!
By Kimberley Howard – Account Executive
Salford Business Awards new logo revealed!
Cuckoo is so happy to be the official design and marketing partner for The Salford Business Awards 2016! We will be giving the 8 year old brand a complete refresh as well as designing and building a shiny new website with aim to inspire more Salford businesses to participate for the awards.
The Salford Business Awards are a partnership between The Business Group Salford, the University of Salford and Salford Council. Started in 2008, an initiative to celebrate the prosperous business community of Salford. Previous winners include; T & K Gallagher, My Parcel Delivery and JMC IT.
SBA provided us with a completely open brief, giving us freedom to really push the boundaries with the brand look and feel. The overall look and feel has been completed and the website is currently in production, due for completion early December
The Organisers of the Salford Business Awards said; – 'We are delighted to have Cuckoo as our design and marketing partner for the 2016 Salford Business Awards. Their work for us during 2015 helped make the event our best ever and we're excited to see which direction they take us from here. We are proud to be working with yet another Salford business and believe that they have all the qualities to help us ensure the Awards are even more successful than ever.'
Justine Wright, Managing Director at Cuckoo Design said; – We have been based on Chapel Street in Salford for over 20 years and are fiercely proud of our home city. We have also played a large part in the overall regeneration of Chapel Street creating brands such as Vimto Gardens, New Bailey and Timekeepers Square so it just makes perfect sense that we become the official design and marketing partner for The SBAs. We are delighted to be part of such a prestigious event.
Halloween at The Old Bank
Here at the Cuckoo HQ AKA The Old Bank, we love a bit of Halloween – pumpkins, sweets and spontaneous baking from a few members of staff and of course a spot of dancing…who remembers our attempt at The Thriller in 2010…
This year we decided to do Halloween the way history intended, pumpkin carving, munching calorific goodies, hiding plastic spiders in various places for Emma the Office Manager to find and generally making fools of ourselves.
In addition to our tomfoolery, we have decided to get you lot involved too…We have created a very spooky, and might we say tricky, Halloween quiz for you to get your teeth into (excuse the pun). We don't want to give too much away, but it involves #TheOldBank
Whoever gets the most correct answers will win a Halloween Hamper full to the brim with spooky treats. Keep your eyes peeled on Facebook, LinkedIn and Twitter if you don't want to miss out!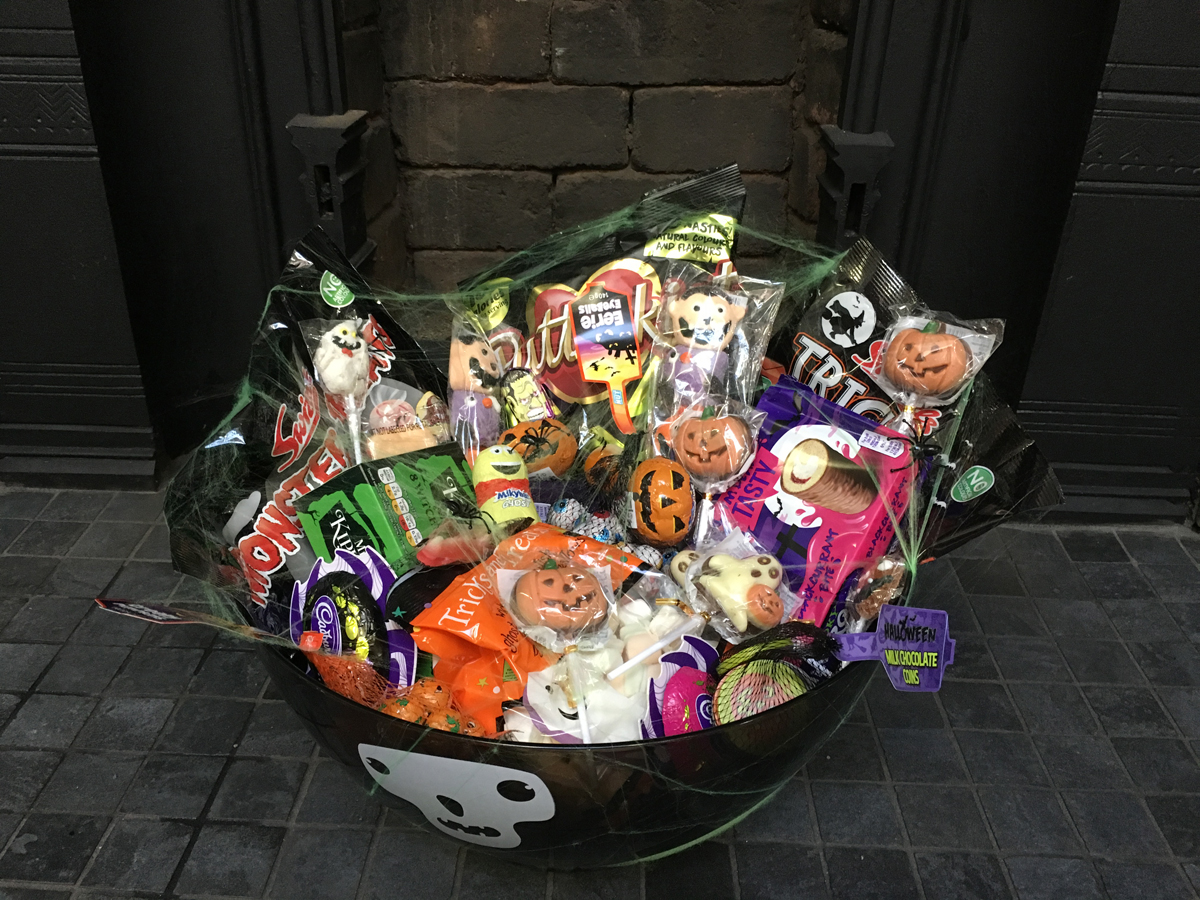 Good luck! 🙂
The Drum Network go Cuckoo… Again
The Cuckoo's are very pleased to say that we will be holding Manchester's next, Drum Network chapter event at our Old Bank office this September. The topic? 'Agency Life and the Art of Mind Reading Your Clients', something just about every agency on the planet would love to know about! The speakers on the night will be Jim Law, founder of Wild Heather Research and Jennifer Potter Founder of Simply JP.
Imagine a world where every brief was perfect, timescales and budget were met and everyone was on the same page…
There is nothing we love more than showing off our awesome office, so getting the opportunity to host a chapter event with The Drum Network is something we all get VERY excited about. We even get an excuse to dust off the old popcorn machine.
September's event will be our second collaboration with The Drum Network this year. Back in April we hosted the 'How to Avoid Clients Behaving Badly' event which was a great success with a fantastic turn out, delicious nibbles, great conversation and of course a hilariously funny and informative presentation from the charming guest speaker; Chris Merrington, who's presentation included cream eggs for everyone!
If you won't be joining us, be sure to check back at the end of the month when we will be posting images and highlights of the event, however if you are coming we are looking forward to seeing you then – Don't forget if you are a Drum Network member the event is completely free, but you do not have to be a member to attend. Interested? Secure your place now.
Hope you see you there!
We have something to reveal…
You want branding that hits home. Design that isn't shy. Marketing with a hint of cheek (or is that chic…?) Four more companies have decided to put their image in the capable hands of Cuckoo Design this year.
Take a look at the work we do and you'll soon understand why. Some might call that boasting, we call it the simple truth. The only thing we're actually going to uncover is the secret to great marketing. It's a three word secret and it goes like this…work with Cuckoo.
Want to know more? Lets speak soon, Give us a call on 0161 839 9337 or email info@cuckoodesign.com
While you're here, check out some of our latest work.
Phil Rainey becomes shareholder of Cuckoo Design!
We are so pleased to announce that as of June 1st our fantastic Creative Director Phil Rainey will take part ownership of Cuckoo Design!
Phil joined us in 2006 as a designer and rapidly progressed to Creative Director in just 2 short years. As well as taking lead on key accounts including GE Capital, Muse Developments and The Co-operative Bank, Phil has also played a fundamental role in winning some of our biggest clients to date, such as Experian, Manchester Business School, and Royal London.
Justine Wright, Managing Director of Cuckoo Design, said: "Phil has made a huge contribution to the success of the agency. He has an amazing skill-set, not only creative talent but also superb digital knowledge and real strategic insight. By becoming a shareholder, Phil has demonstrated his long-term commitment to taking Cuckoo to even further heights and I couldn't be happier about that."
Phil said: "Owning part of Cuckoo is something I have aspired to since becoming the Creative Director and a board member. I'm really looking forward to supporting Justine even further in her decision making, as we continue to go from strength to strength as an agency."
Phil's career doesn't stop there; he is also lead guitarist in The Rainband, who supported Paolo Nutini on his Italian tour last year. In recent years they have played Glastonbury and will perform on the main stage at the hugely popular Isle Of Wight Festival this summer.
Video: Creativity that kicks!
It is no secret that most creative agencies struggle when it comes to producing creative and marketing solutions for themselves, due to all their creative juices being lavished upon their clients.
That's certainly how we feel at Cuckoo (and we hope our clients agree).
Just occasionally, however, we get a spark of creativity that we are simply compelled to act upon…
The Cuckoos had that little spark of that creativity recently. We thought to ourselves; 'why don't we have a Cuckoo film?' We decided that we needed something that sums us up in two minutes or less, that's not only for us and by us, but is delightfully honest and charming and all this by the bucket load.
So without further ado we would like to present to you our spanking new brand video. Every word was laced together with love, and treated to an animation style that couldn't describe us and our brand better.
Created in-house with love, we hope you like it!
Banging The Drum for Cuckoo
It is no secret that we have made some fantastic changes to the agency over the last twelve months, from strengthening our team to revamping our brand identity and bringing on not one, but five brilliant new clients.
We are so happy to be recognised by one of the UK's biggest and best industry journals, The Drum.
Richard Draycott, Associate Editor of The Drum came to meet with Justine Wright, owner and Managing Director of Cuckoo for an interview discussing our recent successes and future plans for the Agency.
Read the full article featuring an in-depth interview with Justine along with images of our team, the studio and design work.
Great branding lasts forever
During 2014 we brought 20 stunning new brands to life
At Cuckoo Design, we've spent the last 12 months developing the very best kind of branding. Branding that slips under the radar and gets under the skin; of you, your business, of your customers. The kind of branding that people don't really notice, because they're too busy noticing the product, people or place that it applies to. Noticing and liking. Someone very clever once said that good branding is invisible but unmistakable. Actually it was us. We did that for over 20 brands in 2014.
"2014 was an exceptional year for Cuckoo. Branding is at the very heart of the agency and we have enjoyed bringing over 20 great ones to life over the past 12 months from starts ups to well established businesses. Our team and agency has been simply amazing." Justine Wright, MD
To discuss how we could help your business call the team at Cuckoo Design today on 0161 839 9337 or email Jennifer@cuckoodesign.com
Cooksmill's gone Cuckoo….
Cuckoo Design has been selected by Cooksmill, a national catering supplier to help kick-start their online and offline communications campaign.
Cooksmill have recently opened the doors to their new 20,000 square foot super store in Salford, joining other retail giants such as Sainsburys, Dunns, TK Maxx and Argos on Regent Road.
The store stocks 1,000's of great products, from everyday professional catering supplies to high-end kitchen equipment and luxury tableware, giving customers not only the best products at the best value, but also a huge range of products to choose from. In a saturated and trend led industry, Cooksmill allows their customers from catering professionals to the general public to be unique.
This project compliments Cuckoo's existing client base in the hotels, hospitality and property development sector.
Justine Wright, Managing Director at Cuckoo Design – "We are delighted to have been appointed by Cooksmill. Hospitality and catering is in our DNA and we are extremely excited about the opportunity to work with such a great team at Cooksmill."
Muhammed Z Dadibhai, Owner of Cooksmill – "We aim to create a revolution within the UK catering supply industry and a company for Salfordians to be proud of. What better way to do that than by bringing in an award winning Salford based design agency."
Cuckoo Design has a new look!
The Cuckoo team celebrated their rebrand with a huge party
Last week Cuckoo Design hosted a launch party in celebration of our rebrand, including the unveiling of a brand spanking new website, an improved logo and new faces within the team.
The evening kicked off at 5.30pm in The Kings Arms, Salford, a real bohemian backstreet boozer based just a stones throw away from our office. The evening had it all; from great company, food and drink to an exclusive live set from the outstanding and very loud, The Rainband, one of Manchester's acclaimed bands.
The band came on at 6pm and ended with a standing ovation at 7pm when everyone was pointed in the direction of the free bar and delicious food.
In true Cuckoo fashion it was not your average after work corporate networking event held in a polished venue in the city centre, but a very laid back and quaint get together of clients, friends and suppliers. We even had fun personalised beer matts and grungy gig style pin badges. In place of your standard champagne and finger sandwich buffet we had a fanciful chip station with an assortment of quirky accompaniments; all of which was wiped out in its entirety by 8pm. The pub remained full to the brim until after 10pm with everyone including the band staying to give a big cheers to Cuckoo.
The Cuckoo team are extremely proud of our new and improved (slightly more sophisticated) look and feel and would love to invite you to have a look at our new website, see some of our great clients, recent projects and of course read about our incredibly weird and wonderful team!
Lets hope the next event is as fun and memorable as this one!
We have been nominated for 3 awards!
It's that time of year again, when everyone within the agency sector is scrambling together their show stopping work and vaulting to make award entry submission deadlines.
This year has taken a turn for the terrific for Cuckoo Design, not only have we been nominated AND shortlisted for The Talk Of Manchester's 'Best Brand Agency' Awards, we are also nominated for The Drum Network's Northern Marketing Business of the Year.
2014 has been one of our busiest and most prosperous years to date, with the team expanding to an effervescent 14 and some excellent new clients coming on board. Being considered for such prestigious awards within our industry is just the icing on the cake for a fantastic year!
Justine, our MD is incredibly happy with the progression of the business this year saying;
"The team has an amazing mix of experience and youth; it's a joy to be part of such a fabulous group of people. We have added three new clients so far this year and plans are in place to keep our organic and steady growth strategy on track to meet our 5-year plan. I am as excited about the agency today as I was when I joined 18 years ago!"
Last but definitely not least we are so very proud of our wonderful Creative Director, Phil Rainey who has been shortlisted for 'Creative Professional of the Year' in the MYTW – Manchester Young Talent Awards 2014. Since 2005, Phil has been instrumental in the success of Cuckoo Design not to mention founder, songwriter and guitarist in the successful The Rainband.
November and December are shaping up to be very eventful, full of bubbly and celebrations!!
Don't forget, The Talk of Manchester Awards are public vote so please take a moment to vote for us to win 'Best Brand Agency'
We live and breathe the brands we create
As residents of Chapel Street for over 20 years we've been well placed to see the regeneration. Here at Cuckoo we're proud of our roots in Salford, and nothing gives us greater pleasure than seeing our own work playing a major part in the continuing prosperity.
Working with household names such as The Co-operative, GE Capital, Royal London and Bupa, we have years of experience designing and developing brands. So many examples of our branding work can now be seen just by stepping out from our offices at The Old Bank. Vimto Gardens, Chapel Street, New Bailey, The Ainscow Hotel and the Diocese Of Salford are all exciting developments in and around M3, and we're delighted to have been associated with the design of these brands.
It's great for all our staff to see their hard work come to life on our very doorstep. We're looking forward to seeing these brands continue to grow and become part of the fabric of Chapel Street in the future, whilst always looking forward to the next challenge.
Cuckoo running Manchester Bupa 10K
This Sunday is the Bupa Manchester 10K run and a few of our Cuckoos will be there running for their chosen local charity. Phil, Ben, Andy and Esther will be running and raising money for a great local charity, The Salford Foundation.
The Salford Foundation
The Salford Foundation is a social inclusion organisation that provides opportunities for young people and adults in Salford and surrounding boroughs to develop social, academic, vocational and personal skills.
We've had lots of generous donations so far but we haven't quite reached our target just yet. So if you could, we'd be very grateful for any donation, small or large, to help our running Cuckoos achieve their sponsorship target for this very deserving cause.
You can find a link to our JustGiving page below.
http://www.justgiving.com/cuckoorun
http://www.salfordfoundation.org.uk/
Thank you from all of us at Cuckoo!
Cuckoo Delivers 'My ISA' Website to Royal London
Award winning, Salford based marketing agency, Cuckoo Design, has completed an assignment following appointment by Royal London, the UK's largest mutual provider of life and pensions products, to ensure that there was continuity of messaging across all literature following its recent acquisition of Co-operative Investments.
Cuckoo refreshed the 'direct to customer' proposition relating to stocks and shares ISAs including direct mail activity, call centre support and briefing kits. It was also appointed to design and build the new website myisa.royallondongroup.co.uk
Phil Rainey, Creative Director at Cuckoo Design said; "Following the acquisition of The Co-operative Investments by Royal London, there was a need for continuity of messaging in all literature. The site acts as a great resource for customers, enabling them to check their investment and get up-to-date market analysis. The challenge was to present this vast amount of content in an engaging and customer focused way. By using the latest technology we developed instant fund calculators along with live price/news feeds. Now there's only one place a customer will need to visit to get the information they require."
Sheryl Murphy, Product Marketing Consultant at Royal London said; "The website will provide customers with a wealth of information about their investment and includes live feeds from Reuters which again is a first for us. This website just forms part of the new and wider Royal London communications strategy of a direct to consumer offering. Cuckoo has been instrumental in making such a content-rich and interactive website feasible in such a short period of time."
Tyres On The Drive selects Cuckoo to drive its marketing campaigns
Cuckoo Design has been selected by Tyres on the Drive (TOTD), www.tyresonthedrive.com after a four-way agency pitch process. Cuckoo's appointment covers brand, digital and offline communications campaigns to support TOTD as it seeks to grow the business.
As a pioneering and innovative business, TOTD offers a professional, mobile, tyre-fitting service just about every vehicle from cars to caravans, motorbikes to vans, at home or at the workplace. Due to the structure of the company and significantly reduced overheads, the company is able to offer a 40% discount on the average high-street provider together with its customer-centric, convenient service.
Cuckoo's appointment covers brand, digital and offline communications campaigns to support the business which currently operates across the North West, Midlands and Yorkshire regions and provides additional related services including brake replacement, accessories and Winter Checks plus offers both corporate and fleet tyre services and has plans for further product and regional expansion in 2014.
Justine Wright, Managing Director of Cuckoo Design says;
"We are delighted to be chosen by Tyres on the Drive to work with this exciting and rapidly growing brand. Marketing Director, Nicola Fitzmaurice is fantastic in terms of understanding how a client and agency can work collaboratively together. It is always far more rewarding to be involved with campaigns at such as early stage and see where the opportunity can take you."
Nicola Fitzmaurice, Marketing Director at Tyres on the Drive says;
"Cuckoo stood out, not just from a creative perspective but that they really understood what we need at what is a hugely important time for our business. They clearly understood the market but also how to use online communications effectively. I am looking forward to working with them to develop our new brand and product campaigns."
Cuckoo sponsors local football team Flixton Juniors Sharks
We're all big fans of the beautiful game here at Cuckoo HQ, so when Flixton Juniors Sharks U7's needed a new kit we couldn't resist sponsoring them. The team has just started their first season of football, recently entering the City Of Salford Soccer League.
We'll be watching the Sharks progress closely this year… you never know there could be a few Giggsy's of the future in this team photo? I'm sure you'll agree they all look great in their new Cuckoo kit. Come on you Sharks!!