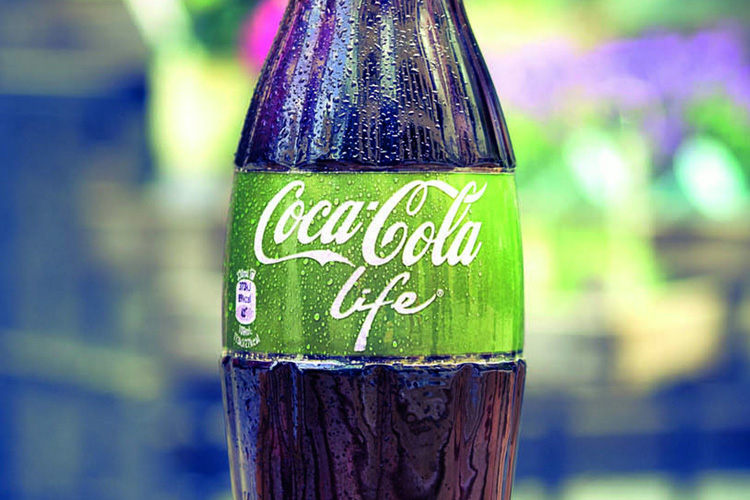 Coca Cola is set to launch a new soft drink in the UK – its first in eight years.
New product Coca Cola Life is set to appear in UK shops this autumn, following a trial in Argentina and Chile last year. The drink contains a third fewer calories and a third less sugar than the original Coca Cola, and is sweetened by the natural ingredient Stevia.
Coke has signed up to the Department of Health's voluntary public health responsibility deal, alongside Pepsi, Nestle, United Biscuits and Mondelez International (parent company of Cadbury). The deal includes pledging to develop lower calorie options, reduce portion sizes, and reformulate recipes to reduce fat and sugar.
Health campaigners have pointed out that despite the reduction, Coca Cola Life contains four teaspoons of sugar in a standard 330ml can – a quarter of a child's maximum daily intake.
Branding Life
The Coca Cola Life branding is a marked departure from the rest of the company's portfolio. The traditional colour scheme of red, black, white and silver has been abandoned in favour of a bright green. The word 'life' appears in a lower case handwriting-style font, as opposed to Diet Coke's calligraphy and Coke Zero's bold, minimal lettering.
The Argentinean website shows a woman walking through a grassy field with the tagline Destapa Tu Naturaleza ('uncovers your nature'). Meanwhile TV ads from Argentina revolve around life events including a first kiss and a young couple becoming parents.
Coca Cola's healthy history
Coca Cola first targeted the healthy market with Tab, which launched in 1963. Following a health scare over the use of saccharin it was forced to carry health warnings during the 1970s and 80s. It never launched in the UK, but is still available in some areas of the US.
Diet Coke was launched in 1982 and quickly overtook Tab, before coming to the UK in 1983. While Diet Coke's advertising was clearly geared towards a target audience, the launch of Coke Zero was all man – later featuring Wayne Rooney and Skyfall in campaigns.
Coca Cola have in fact tried to market a 'reduced calorie' product before Life – a drink called C2 launched in Japan, the US and Canada in 2004, but was discontinued in 2007.
What does your brand say about you?
Launching a new product or trying to change perceptions is always a challenge. The specialist team at Cuckoo are experts in branding strategy, whether it's a total rebrand or a new product launch. From identity to advertising, we'll make sure you're speaking to your target audience and sending all the right messages. If you want to find out more, call the team on 0161 660 8352.
back to the latest