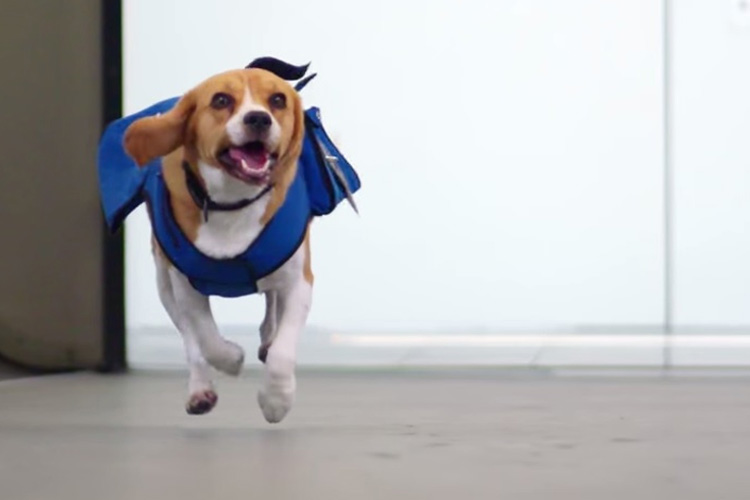 Dutch airline KLM uploaded an ingenious piece of marketing to its YouTube channel last month, which was viewed more than 12 million times within the three weeks following.
The subject of the video is the airline's Lost & Found department at Amsterdam Airport Schiphol – or more specifically, the efforts of an interesting new recruit: a beagle named Sherlock.
The storyline
We see the cabin crew, assisted by Sherlock, searching a recently landed empty plane for items left behind by passengers.
When a lost phone is found, a flight attendant holds it to Sherlock's nose to allow him to get accustomed to the owner's scent, before fastening it to his KLM-branded gilet.
Sherlock then runs out into the terminal, guided by his nose, past countless adoring onlookers, locates the owner and returns the phone to her.
What follows is a montage of other items, such as a pair of expensive-looking headphones, being returned to various owners. A definite stand-out moment is a superb slow-motion shot of a little boy hugging Sherlock after being reunited with his cuddly Woody (from Toy Story) doll.
The truth
Just over a week after the video was released, it was revealed – or perhaps confirmed – that the Sherlock video is a sham, meaning KLM do not actually employ beagles.
Though this undoubtedly left quite a few viewers a little disappointed, not to mention much less inclined to 'accidentally' leave items on KLM flights in the future, it was hardly an enormous shock. Furthermore, KLM deserve a round of applause despite the deception, as it is an extremely emotive and memorable piece of advertising.
Unforgettable advertising at Cuckoo Design
At Cuckoo Design we put together ingenious marketing campaigns and branding strategies for a wide range of clients. Our team is full of talented professionals with the qualifications and creativity required to make your brand stand out.
To find out more about how we can help you, give us a call on 0161 839 9337 today, or drop us an email at info@cuckoodesign.com.
back to the latest