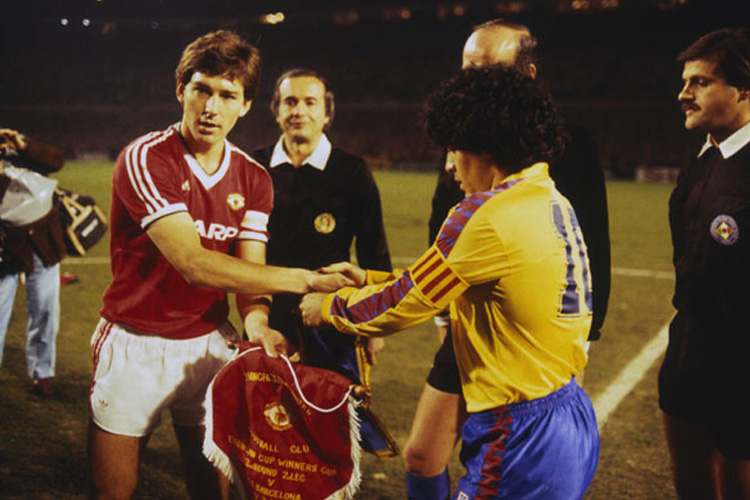 Last month it was announced that once the 2014/15 football season comes to an end, so too will the partnership between Manchester United and Nike.
After 13 years of wearing the swoosh on 10 different shirt designs, most of which are now synonymous with some of the club's greatest achievements, United are set to switch back to 'the brand with three stripes'.
Brands reunited
Fans younger than 20 or so may not be able to imagine United shirts with three white stripes running down the sleeves, but older fans will remember when this was exactly how it was – between 1980 and 1992.
The shirts from this era are now considered iconic amongst fans due to their incorporation of the classic trefoil logo, as well as their overall minimalistic look in comparison to today's football shirts. This was when football shirts had only recently switched from cotton to nylon, and on-shirt sponsors were only just starting to appear (in United's case this was Sharp Electronics from 1982 onwards).
adidas have not said anything about their kit plans for United yet, apart from that they may look at the shirts of the eighties and early nineties for inspiration. However, it is highly unlikely that the trefoil will feature this time round, as it has not been used on professional football kits for almost 20 years.
How much is the deal worth?
United will receive £75 million from adidas each year over the course of the decade-long deal, more than tripling Nike's annual payments of £23.5 million. Furthermore, every time United win the Champions League, Premier League or FA Cup, adidas will pay an extra £4 million.
However, adidas have specified that the deal will be slashed by £20 million per year should United fail to qualify for the Champions League for two consecutive seasons, starting from the 2015/16 campaign. Another clause states that in the highly unlikely event of relegation from the Premier League, adidas can reduce their payments by up to half for every year United play in a lower tier.
Radically transform your brand
At Cuckoo Design we have the expertise to truly make your brand stand out. Our talented and creative team will come up with ideas and strategies that will completely revamp your brand by enhancing its image and maximising its outreach.
To find out more about how we can help you, feel free to give us a call on 0161 660 8352 or email us at info@cuckoodesign.com.
back to the latest