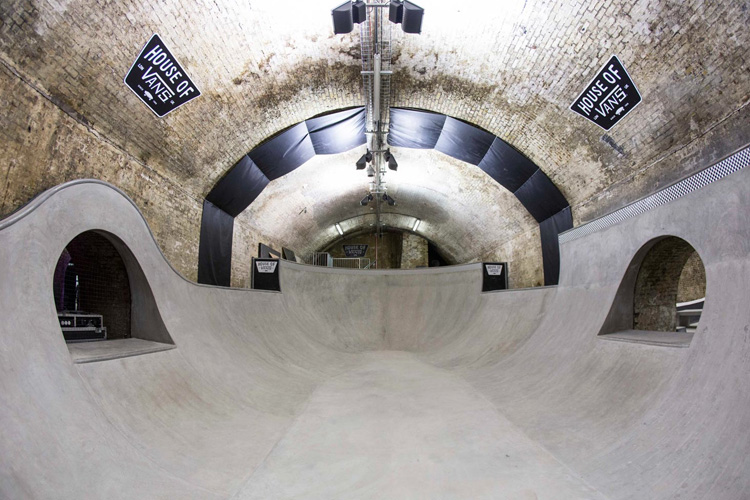 Skateboarding footwear brand Vans has opened London's first indoor skatepark – right under Waterloo Station.
In addition to the skating areas, the thousands of square feet of disused railway tunnels will house a live entertainment facility, a cinema, an art gallery, premium bars and cafes.
Going underground
Before its closure in March 2013, the space served as the Old Vic Tunnels – a popular performance venue. It is rumoured that numerous global brands expressed interest in occupying the tunnels throughout the vacant period, including Nike and Apple, but were outbid by Vans.
Jeremy de Maillard, vice president of marketing at Vans, said: "The House of Vans London is the physical manifestation of the cultures and creativity at the heart of the Vans brand. London is the perfect city to expand this original concept and it's an honour to take over this iconic venue from the Old Vic."
Niche skateboarding outfitter to global fashion brand
Vans now manufactures some of the world's most popular and recognisable footwear, but like many iconic brands it started off much more humbly.
In 1966 brothers Paul and James Van Doren (hence the name), Gordon Lee and Serge D'Elia opened the first Vans store in Anaheim, California.
Their rubber-soled canvas shoes were priced between $2.49 and $4.99 (£1.50 and £3.00), and on the first morning of business a dozen customers placed orders.
When skateboarding experienced a huge surge in popularity in the 1970s, Vans shoes became the sport's footwear of choice and business began to flourish. By the end of the decade there were more than 70 Vans stores in California alone.
A young Sean Penn wore the now iconic checkerboard 'Slip-Ons' in the 1982 teen film Fast Times at Ridgemont High – extending the brand's outreach far past the skateboarding market.
It wasn't all plain sailing for Vans from there, though. In 1983 the company filed for bankruptcy after its extensive product development efforts had caused debts to mount.
Two years after its financial recovery, Vans found stability when it was bought by an investment banking firm. Throughout the 1990s the company continued to expand, and 1998 saw its initial public offering (IPO) on the Nasdaq stock exchange.
Now, just shy of its 50th birthday, Vans is a globally popular brand amongst skateboarders and non-skateboarders alike. It continues to manufacture its popular classics and also releases new designs too.
Amplify your brand
At Cuckoo Design we can help you improve your brand's image and dramatically improve its outreach. We put together successful marketing strategies that help our clients gain new customers as well as retain existing ones.
For more information on how we can help you, please get in touch by giving us a call on 0161 660 8352, or drop us an email at info@cuckoodesign.com.
back to the latest