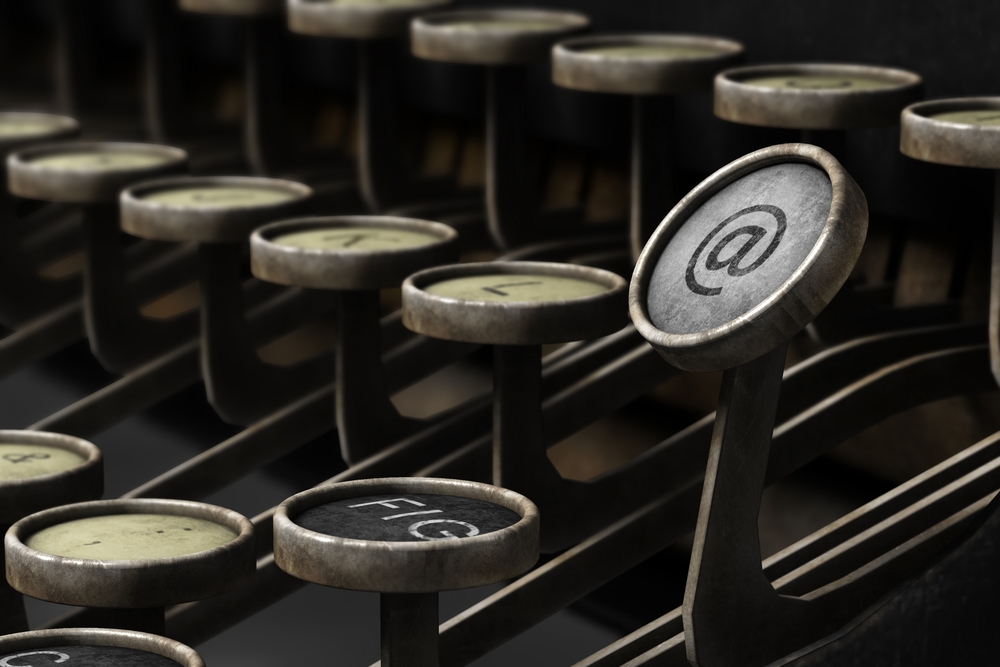 The symbols are a bit of a giveaway, really. The symbols for emails, that is. Envelopes. Paperclips. The kind of pre digital stationery that you'll fairly soon only be able to see in a glass case in a museum. Ally this to the fact that most people over the age of around 25 can remember their first online experience being that of clicking and sending an email, and it's fairly easy to understand why 'sending an email' is starting to feel like a slightly old fashioned idea.
Another factor is social media. Talking about sending emails – you know, like letters, only electronic – can sound impossibly quaint when compared to tweeting, posting on Facebook, updating Instagram or the seven new types of social media which have been invented since I started typing this blog and which nobody over the age of 16 has started using yet.
All of which is a long-winded way of saying that email marketing is still a highly effective technique. It may seem slightly counterintuitive, but some of the 'old fashioned' aspect of email as a communications tool is exactly what lends it an air of gravitas and respectability, a patina of believability. Given the accelerating rate of change in the fields of communication and social media, email represents something of a trusted stalwart – not flashy, hip or trendy, perhaps, but able to communicate a clear message in a widely trusted format free from emoticons, hashtags, @ symbols and 6 second video clips. There's nothing intrinsically wrong with any of these things, of course, and they all have their role to play in a fully realised marketing strategy, but whereas a tweet is the equivalent of whispering a slogan in someone's ear and running off, whilst a Facebook post is a difficult to comprehend conversation on a crowded dance floor in an overloud nightclub, a well written email is sitting someone down and, calmly and quietly, telling them exactly what you could do for them.
The statistics gathered by various surveys bear this impression out:
Over 50% of people say they read most of their emails
80.8% of users report reading email on mobile devices
77% of consumers prefer to receive permission-based marketing communications through email
44% of email recipients made at least one purchase last year based on a promotional email.
Emails that include social sharing buttons have a 158% higher click-through rate
All of which is to say that email marketing works. The last statistic, in particular, is highly instructive, in that it underlines the way in which 'traditional' email can act as a gatekeeper, persuading consumers to interact with social media.
The key, then, is not choosing whether or not to persist with email marketing, it's getting the content of that marketing just right. Another figure unearthed by surveys states that 65% of people prefer emails that contain mostly images, as opposed to 35% who prefer mostly text. That almost certainly means getting professionals on board to create your emails. We all suffer from a deluge of spam emails each and every day, and something they almost all have in common is that they look terrible. Badly designed, badly produced and poorly written, right down to fairly basic mistakes around spelling and grammar. Make even the slightest mistake on your own email marketing material, and you risk reminding would be customers of this tsunami of spam, rather than a coherent marketing tool. Get it right, however, and you're turning all of the perceived 'flaws' of email – it's old, it's clunky, it's long winded – into positive attributes; it's trusted, it's solid, it's detailed. For now, and for the foreseeable future, a coherent email marketing campaign is one of the most effective means of communicating with new and existing customers.
At Cuckoo, we understand the importance of having an instant effect in order to communicate exactly what you do. We have over 20 years of experience helping our clients find a voice that makes their marketing communications both unique and consistent through commercially conscious, yet incredibly creative concepts.
If you would like to know more, get in touch on 0161 660 8352 or simple click here
back to the latest