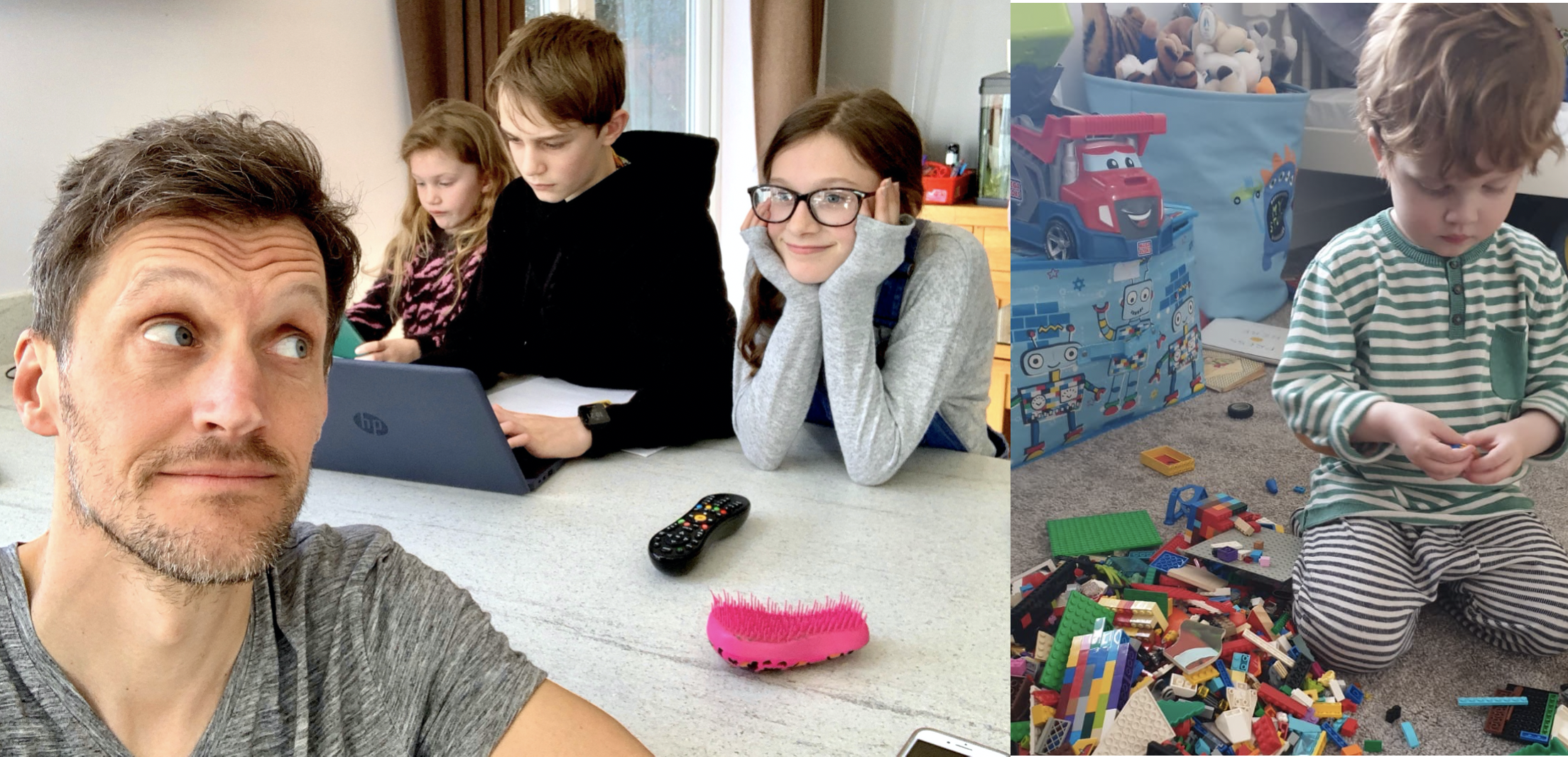 As the uncertainty remains and we continue to stay home, we are all adapting to different norms and new ways of living. For many, this means working remotely from a makeshift home desk, but for some, this also entails juggling your newly evolved role of teaching or caring for your children at the same time! We have caught up with Phil, Creative Director, and Jen, Innovation Director, to find out what challenges, surprises and laughs they have had whilst working from home with their children so far.

Introduce us to your children.
Phil: "I have a 13-year-old boy and two girls, aged 11 and 7."
 Jen: "Jude, 3 years old, is permanently hungry and likes to paint on the floor."

Describe working from home with your children so far in three words.
Phil: "A unique experience!"
Jen: "Exhausting, unpredictable, loud."
What is the biggest challenge you face working from home with children?
Phil: "I think the biggest challenge is getting that quality thinking time. If you're on with an idea or project you can fly through that by just getting your head down, but it's those magic moments of inspiration you have to work and dig for that are potentially harder with children. That moment of inspiration could be taken away by a scream from another room!! You have to feel for their situation too. Homeschooling isn't easy, and you always feel like you could/should do more.
Jen: "The biggest challenge for me is spinning multiple plates at once and making sure that he is not doing anything ridiculous or dangerous like jumping off the top bunk bed or eating non-food items! It is tricky trying to explain to a 3-year-old that you have to work, especially when they just want to play with you all the time! It's especially tricky when you are on a conference call… and he's ALWAYS hungry!!"
What tactics have you used to get some quiet when you need it?
Phil: "I let them see what I'm up to, it takes any mystique out of what I'm doing, and it usually blows their minds so much they don't want to come back (!!!). Also, unless I'm on a call I'll always be on hand to answer a question they may have. I try and be fair and my usual self with them, then hopefully once I require some quiet time they understand and don't get too moody or upset."
Jen: "Netflix has been a lifesaver! When the weather has been dry and sunny, he killed a full 30 minutes mark-making on the pavement with a bucket of water and a paintbrush. Also, snacks! Nothing keeps him quiet like a mini Soreen loaf!"
What tricks do you have up your sleeve for balancing parenting with working?
Phil: The best trick I came up with was marrying a teacher! Homeschooling is tough, but my wife has made it much easier with her experience. The variety of work for 3 is tough. My eldest has hopefully gained skills in being organised and self-disciplined, plus IT skills of checking emails, uploading work etc. My youngest is still in infants so she needs shorter chunks of work, but these get finished quick too. The stress levels were rising in week one as they were all still in 'term time'. I felt the pressure release as we hit the Easter holidays as technically the kids are on 'holiday'.
Jen: "Try and factor them into your to-do list, so you are securing some quality time during your working day to play, paint or just cuddle. Having loads of snacks in the house is key!"
Although working from home with children has its challenges, what positive aspects are there to having your children around?
Phil: "There are loads of positives. Breaks and lunch are now whole new experiences. They can now be spent playing swing ball or jumping on a trampoline with the kids. It's like the full circle of where companies were trying to go with their funky office setups. I've used lunch to get out for our daily allotted exercise. Bike rides and jogs with the kids at lunch are the one positive experience from these troubled times."
Jen: "Cuddles whenever I want and lots of laughs. Also, it's the perfect excuse to do lots of baking during breaks – you can whip up a batch of cupcakes in no time at all!"
What has been the most shocking/funny scenarios you have found yourself in with your children?
Phil: "I guess you never really understand the noise 3 kids make in the house even when they're just talking to each other. I have been on hundreds of conference calls in these weeks and I'm sure my children have in some form too! My advice would be avoiding the camera as much as you can or you could end up with a 'they're behind you' panto scene."
Jen: "When he swallowed a tiny metal ball from a board game meaning we've had to scan him with a metal detector every couple of hours and check his poop… the ball has now made an appearance!"
back to the latest