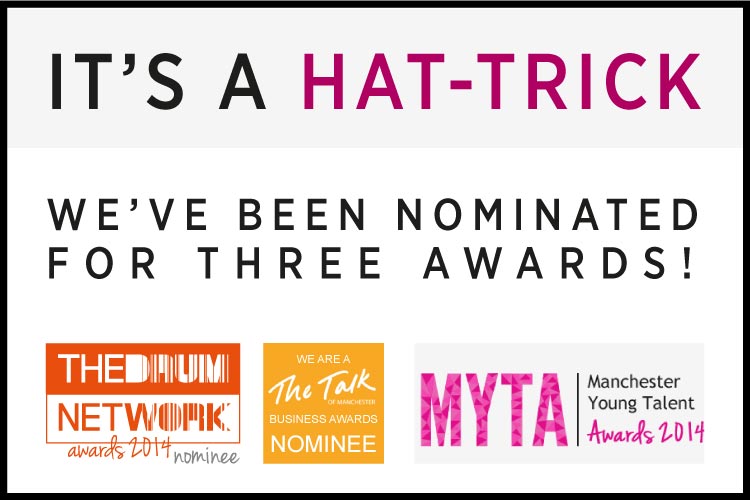 It's that time of year again, when everyone within the agency sector is scrambling together their show stopping work and vaulting to make award entry submission deadlines.
This year has taken a turn for the terrific for Cuckoo Design, not only have we been nominated AND shortlisted for The Talk Of Manchester's 'Best Brand Agency' Awards, we are also nominated for The Drum Network's Northern Marketing Business of the Year.
2014 has been one of our busiest and most prosperous years to date, with the team expanding to an effervescent 14 and some excellent new clients coming on board. Being considered for such prestigious awards within our industry is just the icing on the cake for a fantastic year!
Justine, our MD is incredibly happy with the progression of the business this year saying;
"The team has an amazing mix of experience and youth; it's a joy to be part of such a fabulous group of people. We have added three new clients so far this year and plans are in place to keep our organic and steady growth strategy on track to meet our 5-year plan. I am as excited about the agency today as I was when I joined 18 years ago!"
Last but definitely not least we are so very proud of our wonderful Creative Director, Phil Rainey who has been shortlisted for 'Creative Professional of the Year' in the MYTW – Manchester Young Talent Awards 2014. Since 2005, Phil has been instrumental in the success of Cuckoo Design not to mention founder, songwriter and guitarist in the successful The Rainband.
November and December are shaping up to be very eventful, full of bubbly and celebrations!!
Don't forget, The Talk of Manchester Awards are public vote so please take a moment to vote for us to win 'Best Brand Agency'
back to the latest